Included visit to Valencia Port Health Authority
Included practical workshop on flavour development
This three day educational course exclusively covered the production of SNACK NUTS from origins to packet. If your role in any way involves the production and marketing of snack nuts the content of this course is invaluable for you.
Comprehensive educational agenda
Our packed agenda extended to 3 full days, presented by expert speakers from industry and commerce and included:
Snack Nut Origins & Sourcing
Peanuts, almonds, cashews, pistachios, walnuts, brazils, pecans, hazelnuts, macadamias
Main growing regions and key varieties, quality, food safety and cost attributes
Compare & contrast supplies from different sources & their key quality & organoleptic properties
Environmental and sustainability issues - how they are being addressed
Sorting, Shelling, Blanching & Storage
How sorting, foreign body removal, and grading are carried out prior to further processing
Efficiently & effectively removing nuts from their shells
Blanching – the benefits/risks of removing skins from nuts
Market Intelligence
The market for processed nuts across Europe and the developing trends, drivers and opportunities
Export / Shipping
Shipping by container – fumigation/ loading and associated procedures including labelling, lot traceability, and associated testing/certification
Importation: Controls – Certification – Regulations
The legal requirements and practical difficulties experienced by shippers/importers
The affect on nut products of the implementation of the non-POAO legislation
Quality Assurance
Current legislative requirements for nuts
Latest developments on contaminants such as mycotoxins, heavy metals, pesticides, etc., including sampling and testing best practice
Nutrition / Claims
Update on developments - claims legislation and authorised generic/specific nutrition and health claims for nuts
How the recognised health and nutrient benefits of nuts can be used to help promote your product
Oils - Selection, Management, Performance, Filtration
The main types of vegetable oils on the market, their origins and availability
Best practice with respect to oil storage, frying, filtration, and fryer cleaning
Port Health Authority Visit
First hand experience of how third country nut shipments arriving into the EU are handled and inspected
Inspection, Contaminant Detection & Removal
The latest techniques available for preventing 'foreign body' contamination, and associated food safety requirements
Identification and removal of aflatoxin affected nuts
Roasting
Key factors affecting systems choice and performance
How roasting can affect product quality, stability, and downline performance
Frying
The different types of fryer systems available and how to decide which best fits your needs
The effect of fryer throughput, oil turnover rates, and process conditions on product quality and costs.
Flavouring
Flavour development and custom designing the perfect taste
Flavour flow and adhesion
Flavour application techniques and the options available for line or head flavouring
Coating systems - how they are developed and applied and the effect they offer to finished products
Flavour design practical workshop
Packaging
Material choice for a range of snack nut packaging applications
Multi-head weighing - speed, accuracy, performance and value – and compliance with current legislation
Bag forming and key considerations in cost-effectively achieving product protection and pack presentation
The latest techniques available for preventing 'foreign body' contamination, and associated food safety requirements
The course combines classroom presentations with interactive sessions /workshop and a site visit.
WHO WILL BENEFIT?
The course is designed for:
The course material will serve as a useful reference for processors, product developers and technicians as well as business managers familiar with savoury snack processing.
This intensive and interactive course offers an excellent opportunity for everybody involved in savoury snack nut manufacture to meet experts in the field, to discuss current problems, and to find creative solutions which will enhance their plant operations.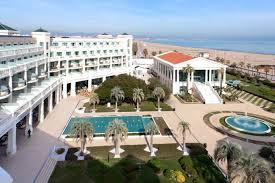 During the course participants took time out to visit the Valencia Port Health Authorities enabling them to see firsthand how shipments arriving into the EU are handled and inspected.
Plenty of time for an exchange with the Authorities was built into this visit to allow for discussions about nut specific issues at the port and in the rest of the EU.
Staying at the beachside Las Arenas hotel afforded course participants an exclusive opportunity to learn and network in beautiful surroundings.
Evening activities let attendees explore and see more of what the exuberant Spanish city of Valencia has to offer.
Combining cutting edge knowledge and insight with an element of fun is the primary aim of ESA's production courses, together with the opportunity to make new contacts and friendships through networking.